Join us
For the men and women at Elengy their mission is to provide access to increasingly safer and more sustainable energy and thus contribute to meeting the planet's environmental challenges. This is our reason for being and we are proud of it.
Elengy recrute un.e acheteur.se
15 novembre 2023
🔍 France, Provence-Alpes-Côte d'Azur, Fos-sur-Mer
CDI - Temps plein

Vous êtes motivé.e pour mettre vos compétences au service d'un acteur majeur de la transition énergétique, expert en GNL ?
Dans le cadre du remplacement d'une collaboratrice, Elengy recherche un.e acheteur.euse basé.e à Fos-sur Mer (13).
---
Elengy a obtenu le label diversité en 2014. Elengy est engagée, au travers d'un accord triennal, dans une politique en faveur de l'intégration et du maintien dans l'emploi des personnes en situation de handicap.

Révélez votre potentiel en rejoignant Elengy !
Adressez-nous votre candidature à cette adresse
Let's make the transition successful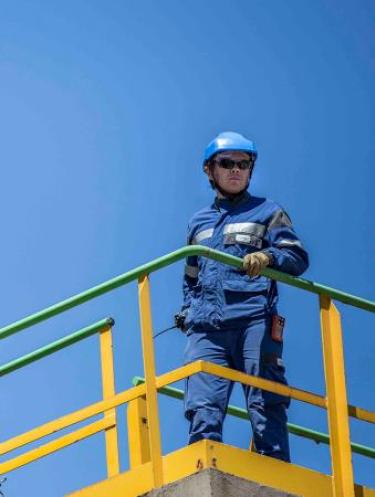 A challenge to be met collectively
Working at Elengy is a powerful statement. At Elengy, we provide our employees with the resources to act by working on useful missions to accelerate the transition to a zero carbon world. We encourage creativity in each and every one of our employees and believe in all working together to launch initiatives and develop innovative and sustainable solutions within a caring professional and educational framework in which every person can grow, reveal themselves and develop their career. This is a pact between us, for both present and future employees.
A personal commitment that has meaning
As well as a being a uniting, our vision and ambitions goals offer a role for all our employees. We are constantly reinventing our managerial, organisational and training practices in order to create an environment that is conducive for growth and well-being in the workplace, so that each and every person feels that he/she is in the right place at the right time.
Join us for an exciting and challenging experience
Whether you are taking your first steps in your professional career or taking on a new professional challenge, reveal your potential by joining Elengy!
Are you student? Be it for a few months or a few years via an internship or as part of a sandwich course we can accompany you in order to facilitate your integration into the professional world. And as a bonus, you will have significant experience to show on your CV and why not a job within the Group?!
Have you just graduated? Or are you an expert on one of our topics? We are convinced that you will find a new and exciting professional challenge in our environment.