The terminal of Montoir-de-Bretagne
Montoir-de-Bretagne is one of three regulated LNG carrier terminals operated by Elengy. Located on the Atlantic coast it is one of the largest terminals in Europe in terms of size and capacity and is able receive the biggest LNG carriers in the world: the Q-Max type carriers with a length of 345 m and a width of 54 m and can transport as much as 267,000 m3 of liquefied natural gas, i.e. ten times the annual consumption for residential use in the town of Nantes.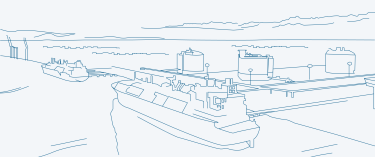 About the Montoir-de-Bretagne terminal
The Montoir–de-Bretagne LNG carrier terminal has been in operation since 1980. It stretches over 73 hectares. Located in the Nantes Saint-Nazaire Port, it has numerous advantages: a prime position on the Atlantic coast, a location at the entrance of the Loire estuary with large access channel and quality facilities and services. Over the last few years it has been leader in LNG transshipment (ship-to-ship) operations in Europe, a service which is provided in total safety thanks to its two berths.
This is one of Europe's largest terminals with a gas send-out capacity of 10 billion cubic meters of gas into the national transport network, i.e. the equivalent to 1/4 of France's annual gas consumption. Today it is one of the most used terminals in Europe. 
| Montoir-de-Bretagne | Fos Tonkin | Fos Cavaou |
| --- | --- | --- |
| From 65 000 (Medmax) to 267 000 (Q-Max) | From 7 500 to 75 000 (Medmax) | From 5 000 to 267 000 (Q-Max) |
Montoir-de-Bretagne's offers
Leader in liquefied natural gas (LNG) ship-to-ship operations in Europe, the Montoir-de-Bretagne LNG carrier terminal offers additional services to its clients.
LNG Terminal capacities
The LNG carrier schedule of each of the Fos-sur-Mer and Montoir-de-Bretagne terminals is published on this site for the current year.