Transshipment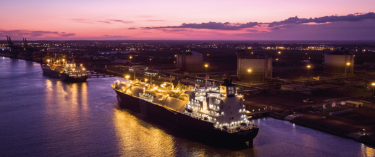 Since 2013, the Montoir-de-Bretagne terminal has been offering a reliable and secure transhipment service, providing our customers with a logistical solution to optimise their cargo flows and shipping capacity.
Optimising logistical operations
Since 2013 our Montoir-de-Bretagne terminal has installations which enable us to carry out 100% safe quality transshipment services.
In concrete terms, we use connections made from standard articulated transfer arms and cryogenic pipes linking two of the terminal's two landing stages between the vessels. So, during transshipment, the LNG transferred is neither mixed nor stored in tanks at the terminal. What are the key advantages of such a system?
Rapidity: the docking of two LNG carriers can be carried out simultaneously, thereby optimising stopover time.
Flexibility: our teams can break bulk large-sized cargo and optimise fleets between the cargo's vendor and cargo's buyer.
Avantage géographique
The Nantes Saint-Nazaire port combines numerous advantages for this type of traffic: a geographical position suitable for transshipment, favourable weather and nautical conditions, and quality harbour infrastructures and services.