The Fos Cavaou LNG terminal 

The Fos Cavaou LNG carrier terminal is located in a strategic site on the Mediterranean coast, in the heart of the Marseilles-Fos Port. It is at the crossroads of maritime routes and natural gas land transport facilities (gas pipelines) which allow it to offer privileged access to all European marketplaces in order tosupply LNG to the numerous ports in the western Mediterranean. FOSMAX LNG, a 100% subsidiary of Elengy, owns the Fos Cavaou terminal.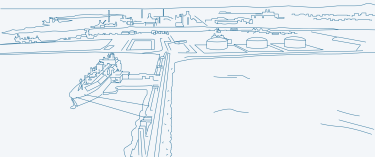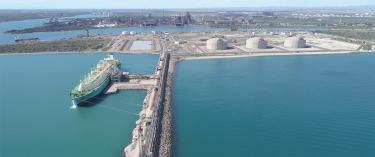 About Fos Cavaou
Fos Cavaou is one of three regulated LNG carrier terminals operated by Elengy. Stretching over 80 hectares and having a 15-metre deep berth, the Elengy Fos Cavaou LNG carrier terminal has been in operation since April 2010.
Located at the entrance of the Fos-sur-Mer Port, it has a capacity to receive all types of LNG carriers, from 5,000 to 270,000 m3. Located at a distance from the port's traffic and in a zone with low tidal ranges, it provides the best safety conditions for vessel manoeuvres. This site provides the market with optimum flexibility for unloading or loading all types of LNG carriers, loading LNG tanker trucks and the regasification of LNG to introduce it into the transport network.
| Montoir-de-Bretagne | Fos Tonkin | Fos Cavaou |
| --- | --- | --- |
| From 65 000 (Medmax) to 267 000 (Q-Max) | From 7 500 to 75 000 (Medmax) | From 5 000 to 267 000 (Q-Max) |
Fos Cavaou offers
Elengy guarantees a reliable, diversified and flexible services offering at its Fos Cavaou LNG carrier terminal.  Our logistical hub enables you to optimise your fleet of LNG carriers and contribute to the growth in new LNG uses contributing to accelerating the energy transition. 
LNG Terminal capacities
The LNG carrier schedule of each of the Fos-sur-Mer and Montoir-de-Bretagne terminals is published on this site for the current year.